Standalone Water Billing Program

Prairifire Software Solutions has created a program for small to medium sized cities or water districts.  Set up as many services as desired, metered, non-metered, penalties, taxes and deposits.  Another feature of the program is a check writing and check register function.  Enter checks or bills, print checks, do bank reconciliation, and print an income statement based on billing and checks.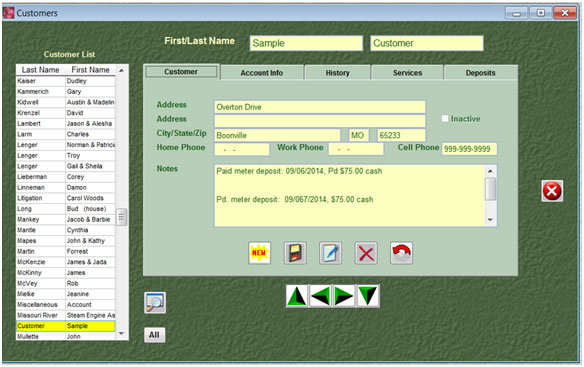 Features:
Customer information with space for notes
Keeps customer history for as long as the city/water district desires
Set up any type of service which the city supplies to customers
Types of services available are metered, non-metered, penalties, taxes
Bills printed on card stock with the ability to put messages to customers on the back
Ability to print delinquent letters and to change the letter to say what the city wants to say
Ability to set a minimum balance for which to charge penalties
Ability to create monthly bills with selected services
Ability to set up accounts for income and expenses so that an income statement can be printed monthly
Ability to enter and print checks for expenses
View a check register and double click on checks or deposits to see detail
Ability to do a bank reconciliation
Reports for Accounts Receivable, Accounts Payable and Monthly Reports
The program is designed to allow the city to set up its own services.
the program is set up to export meter readings to a program that will automatically read the meters, then import the readings into the program and apply the ending readings to the customers
The company used for the automatic meter readings is Hersey Meters.  Prairifire would be willing to work with the meter reading company of your choice if the city would like to go with a different meter reader.
Available Reports:

Accounts Receivable Reports
Aged Trial Balance - Lists the customer's name, phone numbers, their current, over 30, over 60, over 90 balances and total due.
Accounts Receivable History - Lists by customer, all the information on invoices and payments for the services billed, the beginning and ending readings and the consumption for the services between two dates.
Cash Receipts Report - Lists customers, dates, amounts method of pay and check numbers for payments between two dates.
Customer Lists - Lists customer name and address in a report format, in a label format and they can be sent to an Excel spreadsheet.
Delinquent Notices - Print delinquent notices for all customers with a balance due at the time of printing.  The water district can type in the verbiage they desire on the delinquent notices.
Delinquent List - Lists the name and amount due for each customer who has not paid by the date entered for the report.
Accounts Payable Reports
Check Register - Lists the beginning and ending balance of the checking account, the check numbers, dates, name, amount, account number and the check description as well as all deposits within the date range entered. 
Vendor Detail Report - Lists all transactions for the chosen vendors for the time range chosen.
1099 List - If a vendor is marked to receive a 1099 form, they will be listed on this report with the total to be put on the 1099.  This form is to be used as a check to determine who should be given a 1099.
Monthly Reports
Billed Sales Report - shows, by service, who was billed for that service, when and how much.  It gives a total by service for dollars and consumption.
Income Statement - Lists all the general ledger accounts set up and the totals for the time period entered.  It gives a bottom line total of income or loss.
Meter Reading List - Lists all water meter users for the meter reader to record meter readings for monthly bills.
Total Gallons Sold - Lists the customers, consumption and dollars billed for all metered services with totals.
Account Detail Report - Lists the detail for the time period and account number range chosen.  This is most commonly used for error checking.
Deposit List - Lists the connection fees or deposits that each customer has paid for auditing purposes.