Small Business Software

Prairifire Software Solutions has accounting software for small businesses.  Modules available are General Ledger, Accounts Payable, Payroll, Accounts Receivable and Inventory.  Prairifire is ready and willing to make customized modifications to the software to fulfill a need that a particular business has. 

HUD Modification

Some modifications already in effect are a specialized accounts receivable module for HUD (Housing and Urban Development).  Data specific to HUD rules was added as well as specialized reporting.

Grain Elevator/Farm Supply Companies

Another modification was for a grain elevator and farm supply company.  The modifications included an expanded customer information screen showing charges by category such as seed, fertilizer, anhydrous, general transactions.  There is also a portion of the screen that shows the grain a person has and also whether it is in storage, grain bank, under contract or sold. 

There are crop totals by crop, disposition and bushels.  A button takes the user to a Grain Transactions screen where the crop can be sold and a check written.  Contracts for crops can be entered from this screen as well as fertilizer quotes by customer.  There is also a History button to view sold and paid history.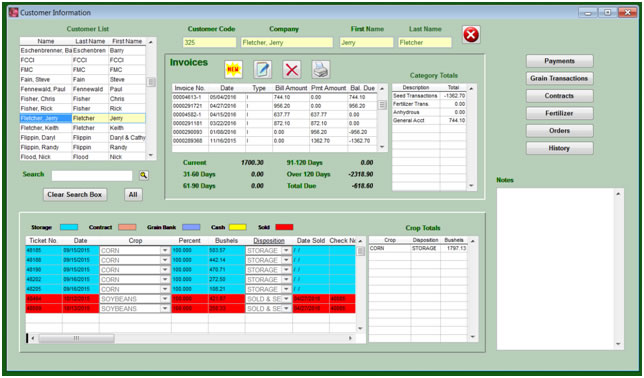 There is a screen for scale ticket entry, enter the crop, gross and tare pounds and the program will calculate the bushels.  Enter crop discounts due to moisture and test weight, foreign matter etc.  Split out the load to give a landlord their portion and the farmer his portion.  Assign the load disposition for the landlord portion and the farmer portion.  The disposition can be cash, storage, grain bank or contracted.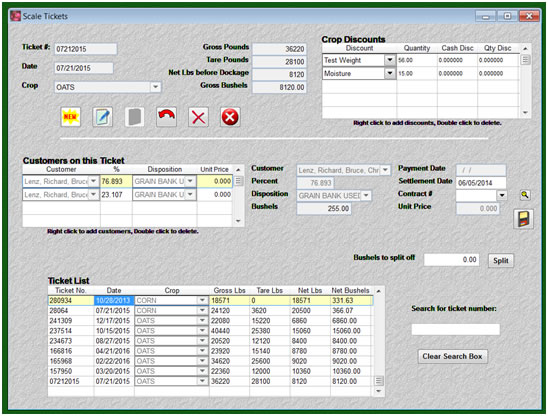 Reports Available for this module:

Grain Status Report - There is a summary and detail report.  This report lists the customers with grain bank, and storage and their bushels and what is in the warehouse.  This report should be compared to the Daily Position Report.

Grain Disposition Report - This report shows the ticket number, date, customer and bushels by storage, grain bank, cash etc.

Daily Detail Report - This report shows the grain sold and the grain purchased for the date range chosen.  The bottom line shows the net effect on the crop.

Sales Discount Report - This report shows the sales discounts on grain such as check off or storage by customer with totals so that these bills can be paid to the appropriate vendors.

Outstanding Contract List(Buy) - This report shows all the contracts by crop, with contract number,  quantity, name, ticket number, ticket date, bushels, date sold and check number.

Outstanding Contracts (Sell) - Shows the same information as above except it is on the sell side.

Customer History Report - This report shows the ticket number, date, percentage of the ticket that this customer owns, the test weight, moisture, foreign matter, gross bushels, tare bushels, price per bushel, gross dollars, sales dollars/bushels discounts, crop dollars/bushels discounts, net dollars, check number and check date for the crop and time period chosen.

Reprint Settlement Report - Enter the check number of the settlement sheet you wish to reprint.

Customer Ledger - Show the same information as the Customer History Report for the crop, customer, date and disposition chosen.  This report could be printed for cash, stored, sold and settled, grain bank and grain bank used bushels.

Customer Insurance Ledger - This report is used for insurance purposes.  It lists the customer name, ticket number, date, percentage owned, disposition, gross, tare and net pounds, gross and net bushels as well as the crop and sales discounts.