Treasurer

The Treasurer's Module is designed specifically to facilitate the entry and printing of receipts. Transfer money from one fund to another or from one account to another. A monthly settlement sheet, receipt register, and general ledger transaction reports are included. Complete a bank reconciliation and print a bank reconciliation report.
On the screen below, enter the amount of cash, ach payments, and checks. Enter the line items below, splitting out the receipt into each account number. When the difference is 0.00, print the receipt or enter the next receipt.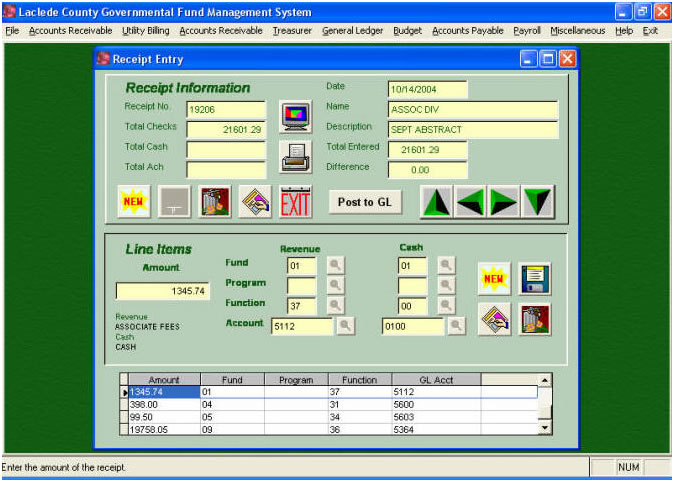 Pay Bills - The treasurer has their own mini accounts payable module and can pay bills of their own without having to interfere with the Clerk's bill paying cycles.  When the information is posted, it goes to the common general ledger and purchase history.
Reports available include:

Transaction Reports – Print General Ledger transactions by module. For instance, you can print all the transactions posted from Payroll, or from Accounts Payable or from Receipts.

Monthly Settlement Report – Lists by fund, the beginning balance for the time period, receipts, transfers in and out, disbursements and then an ending balance. This report may be printed in summary with one line for each fund or in detail, which shows all transactions.

Monthly Settlement by Bank Account - This settlement report displays the same information as about but by bank account.  There is an option to print a list of fund balances included in the bank account or print the detail in each bank account.

Receipt Register – Lists the receipt number, fund, date, description and amount of each receipt entered for the date range chosen.

Combined Payroll/AP Check Register - Lists all checks from both payroll and accounts payable to make it easier to reconcile to the bank.

Receipt Inquiry - Lists all the people who pay the county with the receipts issued to them and the detailed breakdown by account number for each receipt.  The data is separated by year and a total for a particular year can be displayed on the screen.

Reprint Receipts - Reprint lost posted receipts.

Receipt Detail Report - Lists all the information on a range of receipts including name, date, general ledger number breakdown and whether it was cash, check or ach.

Payer List - Lists all payers with their address in alphabetical order.

Payer Summary by Fund - Lists all money received totaled by fund and then beneath that totaled by payer.

Bank Reconciliation Report – may be printed by fund or as a combined listing. Bank Reconciliation can be done by bank account number and the reconciliation report can be printed with all checks and deposits outstanding together or by bank account with all checks and deposits outstanding for each account listed separately.