County Budgeting

The Budgeting Module is designed to ease the budget preparation process for Missouri County clerks. The State Auditor's office sends an Excel spreadsheet to the counties each year to fill out and send back to the Auditor's office. This module allows the clerk to enter the proposed budget figures and the approved budget figures for the current year and for next year. This process can be a work in progress during the year. Then when the proposed figures have been approved, the approved figures can be entered. When yearend has been done, the next year budget figures can be moved to the current year budget figures with a click of a button.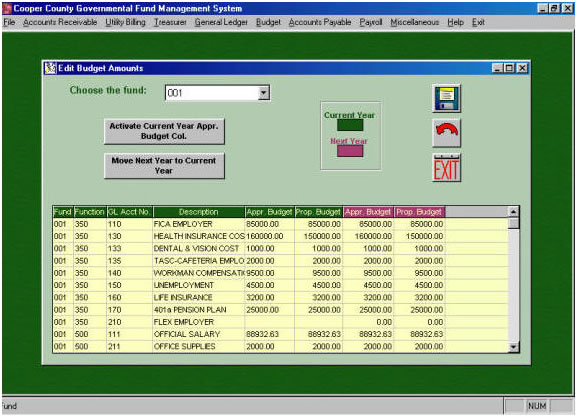 The budget process allows the clerk to assign a page and row number from the state budget spreadsheet to each account in the chart of accounts. The totals for these accounts will be accumulated by line number and inserted into the budget spreadsheet when running the process pictured below. Descriptive items may be added to lines in the spreadsheet and stored from year to year to avoid duplication of work.. If the county has history from the previous two years, the actual and approved budget figures will be inserted into the spreadsheet in the correct cells also.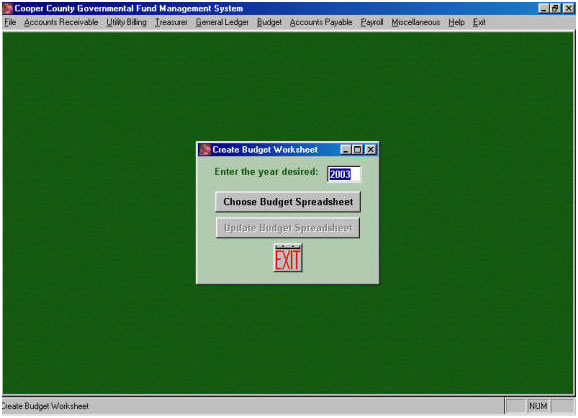 Reports Included:

Budget Worksheet: Print the Budget Worksheet by department and give to department heads to enter their estimated budget and the commission approved budget figures. Two prior year's actual and approved budget figures are included for historical comparison.

Budget Report: Print the Budget Report after all the estimated and approved budget figures have been entered. This can be used as a paper copy of the figures sent to the Auditor's office or it could be used as a check to make sure the correct figures were entered. It also includes two prior year's actual and approved budget figures.

Cell Edit Report: The Cell Edit Report can be printed by Fund or by Cell Location. Use this report to verify that each account is on the right page and line of the Auditor's spreadsheet. If the report is printed by Cell Location, the blank cells will be at the top so that any skipped accounts would be immediately visible.